Collaboration between Deep and Southern Economic Advancement Project (SEAP) began in September 2019 at a Savannah roundtable discussion with Leader Stacey Abrams during SEAP's listening tour. Deep's Action Research Team young adult members Rush and Margot spoke up about community needs we'd learned about from Deep and Step Up's 2019 Youth Summits, which inspired SEAP to ask Deep to develop a curriculum and facilitate something similar for youth all across Georgia. We eagerly began planning a day-long extravaganza for March 18, 2020, in Macon, Georgia. If that date sounds familiar, you might recognize it as falling within the week the COVID-19 pandemic forced the United States into shutdown.
Undeterred, we adapted the curriculum for a virtual gathering and set our sights on the following spring of 2021. Meeting on the web meant we could expand our reach to include young people from all over the Deep South—Georgia, South Carolina, Alabama, Mississippi, Louisiana. Thanks to the efforts of SEAP's interns, we had over ninety youth between the ages of thirteen and nineteen register to attend! 
On Saturday, April 17, 2021, we launched Youth: Voice Story Power, a four-hour virtual event. SEAP'sGenny Castillo (unofficially AKA DJ Baile On That Beat) spun upbeat pop and old-school rap as we got rolling, setting a tone of playful energy. As young people arrived, she shared our purpose and goal: "We're here today because we want to hear from you. We want to know what's going on in your communities and what you all need." 
Our goals were threefold:
Build access to and knowledge about the power young people possess. 

Understand the advocacy process so we see change as an accessible endeavor. 

Gather young people's concerns as they relate to public policy issues.
Deep Center's program manager Megan Ave'Lallemant started by asking participants to craft a personal narrative that encompassed a "we" problem (which is inherently bigger than a "me" problem): "Write or draw about a time when something unfair happened in your community, school, or neighborhood and affected more than one person."
"Laws are created because of someone's story," Genny reminded us. 
Grounding ourselves in Deep's core belief of "the people are not the problem; the problem is the problem," we pushed to re-center our narratives away from blaming individuals and instead on the barriers we face. We knew our stories were personal and political because we were all living inside of human-built systems. We asked ourselves questions to peel back the layers, to go underground and get to the root of the problem. And we got curious about how issues like the ones below were showing up in young people's home communities:
Access to employment/jobs
Healthcare (esp. mental health)
LGBTQIA+ concerns, particularly acceptance within Black communities, discriminatory policies

Immigration
In a poll, over 50% of participants' stories dealt with school. Other popular categories included mental healthcare, juvenile justice, and city planning.
We didn't stop there.
"People have been resisting for as long as there have been problems. Movements are fueled by people who know that 'the way things are' is not the absolute end of the matter," Megan told the group. "You have power. Anything is possible. What do you demand must change?" We wrote and drew about our demands until it was time for our much-anticipated keynote speaker.  
At noon, Action Research Team Fellow Mariah "Rush" George introduced Stacey Abrams, who
told us how her stories shape her advocacy. She shared about her brother Walter, who lives with mental illness and—because he's unable to get individual healthcare (aha! a systems issue)—self-medicates. The only time he's able to receive treatment is when he's incarcerated. She spoke about her famous 2018 run for Georgia governor and how her opponent was in charge of the race itself (another systems issue). These stories, among others, are catalysts for her work, and she encouraged us to tell our stories in the same way.  
Leader Abrams told us, "Today, I want you to know three things:
You have the right to your pain. The grief is real, but the loss is never permanent unless we

give up

.

You have the right to progress. To demand more, to push for more, to do as much as we can to make it happen.

You have the right to your power. We have the right and responsibility to empower one another and create change. It is slow, it is not permanent, but it is

always

possible."
The Zoom room was electric as Rush began a Q&A session with Leader Abrams.
"How do you see policy helping movements?" Rush asked. "Is it possible to be a politician and be in opposition to the institution itself?"
"If you are in politics, that doesn't necessarily mean you agree with everything that politics does," Leader Abrams began. "When I became [House Minority] leader of the Democrats in [Georgia's] House of Representatives, my predecessor was a good man who…did everything he could, but I thought about it differently. He was a white man…who fought for what we believed in but did it from a place of privilege and formal power. When I ran, I said, 'Look, I've been a minority for a very long time. I'm really good at it!' And when you're in the minority, you've got to learn how to do things differently. You don't often have the resources; people tend to be hostile to your engagement, and they're certainly hostile to your power. And so a lot of the things I did as leader were kind of guerilla tactics. I did things people didn't expect, because I didn't have access to the resources and posture people had gotten used to. I was the first woman to ever be in charge of a party in the history of Georgia. I was the first Black person in the House of Representatives, the first Black woman to do any of this stuff. . . .I was literally one of the most powerful people there, but I would have rogue hearings. They wouldn't let us talk about our bills, so we set up our own hearings. . . .It was so effective that the majority leader from the other side of the aisle came to one of the meetings thinking it was real, and it took him 15 minutes to realize it wasn't an official meeting! 
"I tell that story to say this: we sometimes buy into what politicians are 'supposed to do.' What I know is that a politician is supposed to get good done. And sometimes that means working within the system as it's structured, but other times that means restructuring the system so that it meets what you need. 
"…It is a good thing for politicians to [support movements] and people trying to hold us accountable. . . .But my job isn't to co-opt your message. My job is to hear it. So I'm always reluctant to insert myself [into protests and actions] because it takes attention away from the people doing the work. When politicians absorb your message, they have to morph your message into something they're able to say. So I think it can be a collaboration, but it should never be a merging, because the job of politics is often compromise. 
"I was House Minority Leader. It was in my title that I didn't have enough people to get anything done. So the only way for me to be successful was to work with people on the other side of the aisle. That meant I had to compromise. But when you're protesting, engaged in movement work, you don't need to compromise before you get your message through. When you're in politics, you've got to compromise to get the policies done. And when you push those things together too quickly, people begin to compromise what they need before they fully understand it."
Leader Abrams urged us all to keep telling our stories and speaking up for our communities' needs, then thanked us for having her and signing off. 
Immediately, the chat began blowing up with comments like, "Anyone else feel like they just took down an entire empire?" and "THAT WAS EVERYTHING." The enthusiasm was palpable, even in cyberspace.
After a quick break, we launched into building and amplifying the change we needed. Young people could create on a variety of platforms, including videos on Flipgrid, posters on Canva, or writing via Google Docs. Genny spun more tunes, including a variety of requested epic Disney jams, while folks were making their art. Some young people cycled into a quiet breakout room where they could focus more deeply. 
At the end of our time together, we opened the floor for sharing. Below is a sampling.
This one comes from Evan, called "Poem for Change."
Taken for granted
The seeds that have been planted
The tree that germinates
Is not our only fate
Founding Fathers founded an imperfect union
A constitutional change needs to be flew in
The way things are is the way they are now
The way things can be, changed by Mao
Revolution is radical; beyond reproach
Yet the world is too broken—it needs to be broached
Systemic change to the beating heart
Does it work if the system never had a heart?
The greatest changes take groundwork
Choosing the right path when the road forks
Grassroots cannot be the only part
A tree with only roots is just a start
Throw off the yoke that chokes
Change takes more than what is rote
This one's from a poet named Treasure, called "School Problems."
Trying to relive separate but equal.
Searching his more than mine.
Their leader, right? So it's fine.
School will always be . [A lie.]
Making her cry for untied shoes.  
We've always had no say in this; 
'Cause of that we, as the British say, "have taken the piss."
School is scary, but that's . [A lie.]
One more line: you can be problematic.
So be conscious; however, know that mistakes are fine.
Be happy. Hold your beliefs close. Know that your thoughts fuel mine.
Nobody's perfect, but causing pain is not . [A lie.]
Treasure then wrote a short story in answer to this poem, called "The Possibilities":
Imagine a day when you sit relaxing on the hood of your car outside. You hear some commotion and see people with smiles on their faces running by. Down the block not too far from the local high school is a collection of people in swimsuits. Water sprinklers are spurting out water and getting the top of your shirt damp. There is a line for grilled hotdogs. Everyone you've seen in your time in the neighborhood and more are there. No worries about anything. A gay pride flag is stuck down the the shirt of some guy who is runningaround, and as he runs, others cheer him on. Even the "mean" teacher is there and helping the more studious kids with their homework. You look down and feel too dressed up for this. Before you can even exclude yourself from this party(?), you get dragged to a small table. The smell of grilled food and fresh cookies fills your nostrils. Everyone here cares for one another. Everyone here puts aside any differences they have. Everyone is welcomed here! As you sit there, you feel welcomed, too!
Isabella created hers on Canva. Here's a peek: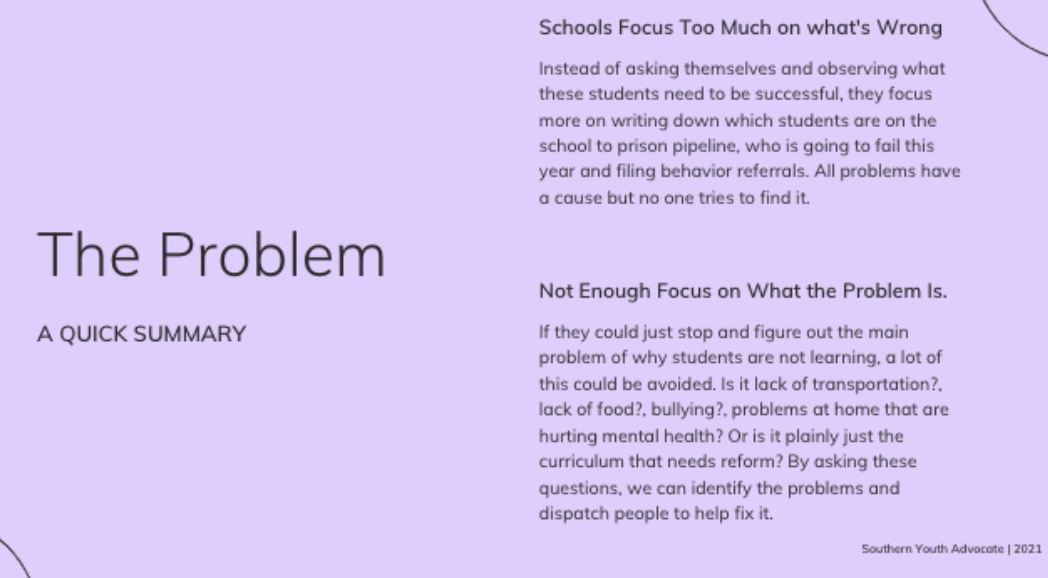 Each young person who shared was met with a chorus of snaps and appreciations in the chat. A collective sense of pride and hope beamed through our network of computer screens. 
During her keynote, Stacey Abrams observed that young people can often see solutions that adults cannot. Genny affirmed this again as we brought our session to a close. "Now that we've practiced a bit of advocacy together, we hope you'll do something similar in your home communities. Thank you so much for being here today. Share your stories with SEAP! You are the ones who know what's needed, and the South needs your voices!" 
Genny queued up another high energy song and sent us off into the rest of our weekend. We were all a little lighter. We felt seen and heard and full of hope. That's the power of sharing your story.
***
Deep Center extends a heartfelt thanks to the Southern Economic Advancement Project for trusting our team with the facilitation of this event, to Roosevelt Institute alumni and staff for your willingness to jump in and mentor young people, to Leader Stacey Abrams for speaking with us on a candid, human level, and to our staff at Deep Center assisting in facilitation and the creation of the curriculum for this event.
---
Deep lidera un taller con Stacey Abrams y SEAP para amplificar las historias y el poder de los jóvenes
La colaboración entre Deep y el Southern Economic Advancement Project (SEAP) comenzó en septiembre del 2019 en una discusión de mesa redonda en Savannah con la Líder Stacey Abrams durante la gira de escucha de SEAP. Les adultes jóvenes del Equipo de Investigación de Acción de Deep, Rush y Margot, hablaron sobre las necesidades de la comunidad que habíamos aprendido en las Cumbres Juveniles de Deep y Step Up en 2019, esto inspiró a SEAP a pedirle a Deep que desarrollara un plan de estudios y facilitara algo similar para todes les jóvenes de Georgia. Con mucho entusiasmo empezamos a planificar un evento de un día entero para el 18 de marzo de 2020 en Macon, Georgia. Si esa fecha le suena conocida, es posible que la reconozca porque cayó dentro de la semana en que la pandemia de COVID-19 obligó a los Estados Unidos a cerrarse.
Sin desconcertamos, adaptamos el currículo para una reunión virtual y fijamos nuestra mirada en la primavera de 2021. Reunirnos por internet significó que podríamos ampliar nuestro alcance para incluir a jóvenes de todo el Sur Profundo: Georgia, Carolina del Sur, Alabama, Misisipi, Luisiana. ¡Gracias a los esfuerzos de los pasantes de SEAP, tuvimos más de noventa jóvenes de entre trece y diecinueve años que se inscribieron para asistir!
El sábado, 17 de abril de 2021, lanzamos Juventud: Voz, Historias y Defensa de Poder, un evento virtual de cuatro horas. Genny Castillode SEAP (extraoficialmente conocida como DJ Baile On That Beat) puso pop animado y rap de la vieja escuela mientras poníamos las cosas en movimiento, estableciendo un tono de energía alegre. A medida que llegaron les jóvenes, Genny compartió nuestro propósito y objetivo: "Estamos aquí hoy porque queremos saber de ustedes.  Queremos saber lo que está pasando en sus comunidades y lo que todes necesitan".
Estos fueron nuestros tres objetivos:
Desarrollar acceso y conocimiento sobre el poder que poseen les jóvenes.
Comprender el proceso de abogamiento para que veamos el proceso de cambio como una iniciativa accesible.
Reunir las preocupaciones de les jóvenes con relación a cuestiones de políticas públicas.
La gerente de programa de Deep Center, Megan Ave'Lallemant, comenzó el taller pidiendo a les participantes que elaboraran una narrativa personal que abarcara un problema de "nosotres" (que, por su naturaleza, es más grande que un problema de "yo"): "Escribe o dibuja sobre un momento en que algo injusto sucedió en tu comunidad, escuela o vecindario que afectó a más de una persona" .
"Las leyes son creadas debido a la historia de alguien", Genny nos recordó.
Centrándonos en la creencia central de Deep de que "la gente no es el problema; el problema es el problema", incitamos a reenfocar nuestras narrativas mientras alejamos la culpa de les individues y en su lugar vemos a las barreras con las que nos enfrentamos.Sabíamos que nuestras historias eran personales y políticas porque todes estamos viviendo dentro de sistemas construidos por humanos.  Nos hicimos preguntas para desprender las capas del problema, a ver que hay debajo y llegar a la raíz del problema.  Y sentimos curiosidad por saber cómo problemas como los que se muestran a continuación se estaban presentando en las comunidades de les jóvenes:
Justicia alimentaria
Justicia juvenil
Transporte
Vivienda
Escuela
Acceso al empleo/puestos de trabajo
Cuidado de salud (esp. salud mental)
Trabajo/Normas laborales
Planificación urbana
Preocupaciones LGBTQIA+, en particular la aceptación dentro de las comunidades negras, las políticas discriminatorias
Inmigración
En una encuesta, más del 50% de las historias de les participantes trataban con la escuela. Otras categorías populares incluían salud mental, la justicia juvenil y la planificación urbana.
No paramos ahí.
"La gente ha estado resistiendo siempre y cuando han habido problemas. Los movimientos son avivados por personas que saben que 'como son las cosas' no es el final absoluto del asunto", dijo Megan al grupo. "Tienes poder. Cualquier cosaes posible. ¿Qué es lo que tú exiges que cambie?" Escribimos y dibujamos sobre nuestras exigencias hasta que llegó el momento de nuestra, muy esperada, oradora principal.
Al mediodía, Mariah "Rush" George, miembro del Equipo de Investigación en Acción, presentó a Stacey Abrams, quien
nos contó cómo sus historias le dan forma a su abogacía. Ella compartió una historia acerca de su hermano, Walter, que vive con una enfermedad mental y porque no puede recibir atención médica individual (¡ajá! un problema de los sistemas), se automedica. La única vez que puede recibir tratamiento es cuando está encarcelado. Habló sobre su famosa postulación a gobernadora de Georgia en 2018 y cómo su contendiente estaba a cargo de la elección en sí (otro problema de los sistemas). Estas historias, entre otras, son catalizadoras de su trabajo, y nos animó a contar nuestras historias de la misma manera.
La líder Abrams nos dijo: "Hoy quiero que sepas tres cosas:
Tienes derecho a tu dolor. El dolor es real, pero la pérdida nunca es permanente a menos de que nos rindamos.
Tienes derecho a progresar. A exigir más, a presionar por más, a hacer todo lo que podamos para que suceda.
Tienes derecho a tu poder. Tenemos el derecho y la responsabilidad de empoderarnos mutuamente y crear cambios. Es lento, no es permanente, pero siemprees posible".
La sala de Zoom se sentía eléctrica cuando Rush comenzó una sesión de preguntas y respuestas con la Líder Abrams.
"¿Cómo ve usted que las políticas ayudan a los movimientos?" preguntó Rush. "¿Es posible ser política y oponerse a la institución propia?"
"Si estas en la política, eso no necesariamente significa que estés de acuerdo con todo lo que hace la política", comenzó la Líder Abrams. "Cuando me convertí en líder [de la Minoría de la Cámara] de los Demócratas en la Cámara de Representantes [de Georgia], mi predecesor era un buen hombre que… hizo todo lo que pudo, pero yo lo pensé de manera diferente. Era un hombre blanco… que luchaba por lo que creíamos pero lo hizo desde un lugar de privilegio y poder formal. Cuando me postulé dije: "Mira, he sido una minoría durante mucho tiempo. ¡Soy muy buena en ese aspecto! Y cuando estás en la minoría, tienes que aprender a hacer las cosas de manera diferente. A menudo no tienes los recursos; la gente tiende a ser hostil a tu participación, y ciertamente son hostiles a tu poder. Entonces, muchas de las cosas que hice como líder eran casi tácticas guerrilleras. Hice cosas que la gente no esperaba, porque no tenía acceso a los recursos y la postura a la que la gente se había acostumbrado. Fui la primera mujer que estuvo a cargo de un partido político en la historia de Georgia. Fui la primera persona Negra en la Cámara de Representantes, la primera mujer Negra en hacer cualquiera de estas cosas… Yo era, literalmente, una de las personas más poderosas ahí, pero aún realizaba audiencias clandestinas. No nos dejaron hablar de nuestros proyectos de ley, así que organizamos nuestras propias audiencias… Fue tan efectivo que el líder mayoritario del otro lado del pasillo llegó a una de las reuniones pensando que era real. ¡Y le tomó 15 minutos darse cuenta de que no era una reunión oficial!
"Les cuento esa historia para decir esto: a veces asumimos lo que se supone que les políticos deben hacer. Lo que sé es que se supone que un político debe hacer el bien. Y a veces eso significa trabajar dentro del sistema tal y como está estructurado, pero otras veces significa reestructurar el sistema para que cumpla con lo que uno necesita.
"… Es bueno [apoyar a los movimientos] para les políticos y para a las personas que tratan de mantenernos responsables. Pero mi trabajo no es cooptar su mensaje. Mi trabajo es oírlo. Así que siempre soy remisa a insertarme [en protestas y acciones] porque quita la atención de la gente que está haciendo el trabajo. Cuando les políticos absorben tu mensaje, tienen que transformar tu mensaje a algo que sean capaces de decir. Así que creo que puede ser una colaboración, pero nunca debe ser una fusión, porque el trabajo de la política a menudo es el compromiso.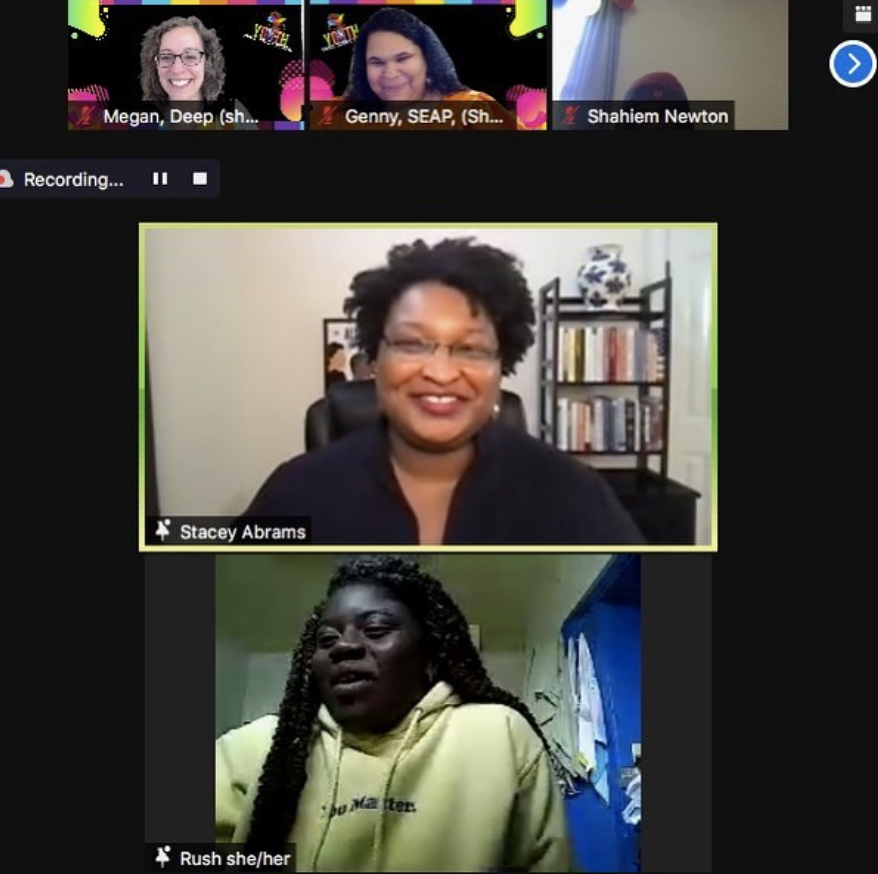 "Yo era líder de la Minoría de la Cámara. Mi títuloespecificaba que no tenía suficiente gente para hacer nada. Así que la única manera de yo tener éxito era trabajar con gente del otro lado del pasillo. Eso significaba que tenía que llegar a acuerdos. Pero cuando estás protestando, participando en el trabajo del movimiento, no necesitas llegar a un acuerdo antes de hacer llegar tu mensaje. Cuando estás en las políticas, tienes que llegar a acuerdos para realizar tus pólizas.  Y cuando te esfuerzas a juntar esas cosas demasiado rápido, la gente comienza a abandonar lo que necesita antes de entenderlo completamente."
La Líder Abrams nos urgió a todes a seguir contando nuestras historias y seguir abogando por las necesidades de nuestras comunidades, luego nos agradeció por tenerla y se despidió.
Inmediatamente, el chat comenzó a explotar con comentarios como, "¿Alguien más siente que acaba de derribar un imperio entero?" y "NO FALTÓ NADA." El entusiasmo era palpable, incluso en el ciberespacio.
Después de un breve descanso, nos lanzamos a desarrollar y amplificar el cambio que necesitábamos. Les jóvenes podían crear su arte en una variedad de plataformas, incluyendo videos en Flipgrid, carteles en Canva o escribiendo en Google Docs. Genny puso música, incluyendo una variedad de canciones épicas de Disney, las cuales fueron solicitadas, mientras la gente trabajaba en su arte. Algunes jóvenes entraron a una sala tranquila en Zoom, donde podían concentrarse más profundamente.
Al final de nuestro tiempo juntes, abrimos el piso para compartir. A continuación hay una muestra de lo que les jóvenes compartieron.
Este poema viene de Evan, llamado "Poema para el Cambio."
Dado por sentado[traducción no oficial]
Las semillas que han sido sembradas
El árbol que germina
No es nuestro único destino
Los Padres Fundadores fundaron una unión imperfecta
Un cambio constitucional necesita volar aquí
La forma en que las cosas son, son como son ahora
La forma en que las cosas pueden ser, cambiadas por Mao
La revolución es radical; lejos del reproche
Aun así, el mundo está demasiado roto —necesita ser abordado
Cambio sistémico al latido del corazón
¿Funciona si el sistema nunca tuvo corazón?
Los mayores cambios necesitan bases
Elegir el camino correcto cuando el camino se divide
Las bases no pueden ser las únicas partes
Un árbol sólo con raíces es sólo el comienzo
Tira el yugo que ahoga
El cambio toma más de lo que es rutina
Este  poema es de una poeta llamada Treasure, titulado "Problemas escolares."
Tratando de revivir separados pero iguales.
Buscando lo suyo más que lo mío.
Su líder, ¿verdad? Así que está bien.
La escuela siempre será. [Una mentira.]
Haciéndola llorar por zapatos desatados.
Nunca hemos podido decir nada sobre esto;
Por eso nosotros, como dicen los británicos, "nos hemos tomado libertades."
La escuela da miedo, pero eso es. [Una mentira.]
Un verso más: puedes ser problemático.
Así que sé consciente; pero saber que hacer errores está bien.
Sé feliz. Mantén tus creencias cerca. Saber que tus pensamientos alimentan los míos.
Nadie es perfecto, pero causar dolor no lo es. [Una mentira.]
Después, Treasure escribió un cuento corto en respuesta a este poema, llamado "Las posibilidades":
Imagina un día cuando te sientas relajade en el capó de tu coche afuera. Escuchas una conmoción y ves a gente con sonrisas en sus caras corriendo por ahí. En la otra cuadra, no muy lejos de la secundaria local hay una colección de personas en trajes de baño. Los rociadores de agua están rociando agua y humedeciendo el tope de tu camisa. Hay una línea para los hotdogs que están en la  parrilla. Toda la gente que has visto en tu tiempo en el vecindario y más está ahí. No hay preocupaciones por nada. Una bandera del orgullo gay está pegada en la camisa de un chico que anda corriendo, y mientras corre, otres lo animan. Incluso el maestro "rudo" está allí y ayuda a los niños más estudiosos con sus tareas. Miras hacia abajo y te sientes muy engalanado para esto. Antes de que te puedas excluir de esta fiesta (?), te llevan a una pequeña mesa. El olor de la comida a la parrilla y galletas frescas llenan tus sentidos. Todos aquí se cuidan mutuamente. Todos aquí dejan de lado las diferencias que tienen. ¡Todo el mundo es bienvenido aquí! Mientras te sientas ahí, ¡también te sientes bienvenido!
Isabella creó su historia en Canva. Aquí está un vistazo: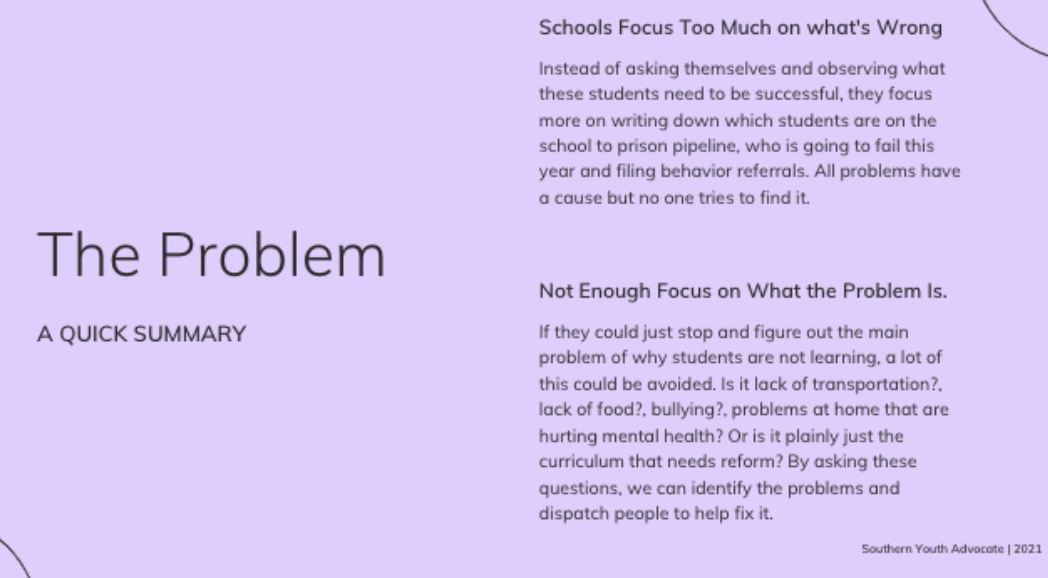 Cada joven que compartió fue recibide con un coro de chasquidos y aprecio en el chat. Un sentimiento colectivo de orgullo y esperanza irradiaba a través de nuestra red de pantallas.
Durante su discurso, Stacey Abrams observó que les jóvenes a menudo pueden ver soluciones que les adultes no pueden ver. Genny reiteró esto al concluir nuestra sesión. "Ahora que hemos practicado un poco de abogacía juntos, esperamos que hagan algo similar en sus comunidades. Muchas gracias por estar aquí hoy. ¡Compartan sus historias con SEAP! ¡Ustedes son los que saben qué se necesita, y el Sur necesita sus voces!"
Genny puso otra canción alegre y así nos envió al resto de nuestro fin de semana. Nos sentíamos un poco más ligeres. Nos sentimos vistes y escuchades y llenes de esperanza. Ese es el poder de compartir su historia.
***
Deep Center expresa un sincero agradecimiento al Southern Economic Advancement Project por confiar en nuestre equipo con la facilitación de este evento, a les antigues alumnes y al personal del Instituto Roosevelt por su disposición a participar y enseñar a les jóvenes, a la Líder Stacey Abrams por hablar con nosotres a un nivel humano y sincero, y a nuestro personal de Deep Center por ayudar en la facilitación y la creación del currículo para este evento.