Deep Center is building a village of support for Savannah's public school students. We do this by directly nurturing our youth as writers, learners, creative spirits, and community leaders. And we do it by fostering networks of care around them—networks that include parents, school administrators, teachers, mentors, siblings, social workers, and other invested people in the institutions meant to serve Savannah's young people.
So we jumped at the chance when Dr. Stephanie Renee Jones of the Red Clay Writing Project (the National Writing Project site at the Department of Language and Literacy Education, University of Georgia) asked Deep to collaborate on fostering a writing community among teachers at East Broad K-8, a Title 1 school in Savannah.
Serving the complex needs of a student population with an extraordinarily high poverty rate (65% qualify for free or reduced-price lunch, a rate 15% higher than the national average), the Chatham County Public School System is among the most challenged in the nation. East Broad K-8 lives at the heart of these manifold challenges.
Using the same values that ground our programs for young people, Deep's Senior Program Director Megan Ave'Lallemant got busy. She designed a workshop series that employed creative writing as a tool for teacher empowerment, healing, reflection, and learning. The goal? To build a writing community of East Broad educators who would feel respected and empowered, and who would, in turn, carry this experience to their students by creating classrooms where learning coalesces with community, respect, power, and joy.
At their first meeting, one middle grades teacher protested, "I've always had an idea for a book, but I'm not a real writer." Megan answered, "If you write, you're a real writer." By the end of the first workshop, that same teacher had crafted a poem about her home full of alliterative phrases and, with a little cajoling, shared out loud. She was met with voracious praise, her eyes lit up as she said, "I might just write my book."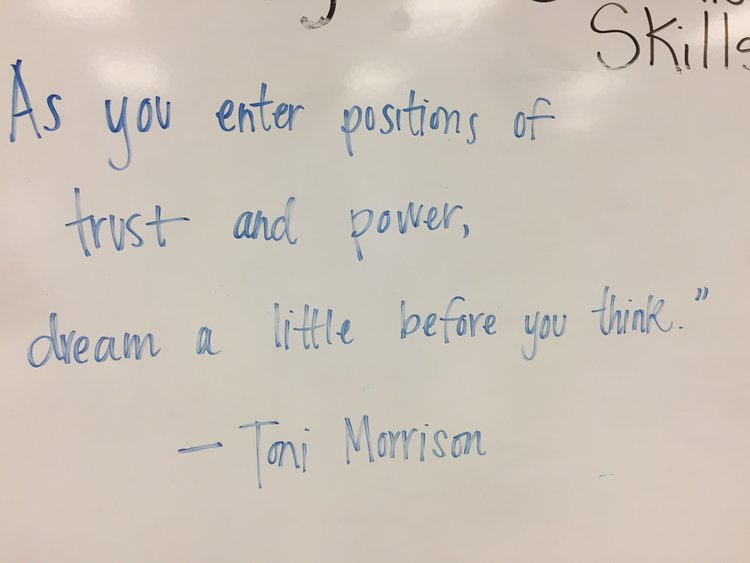 The teachers wrote their way to trust and bonding through a variety of exercises, including a day when they reflected on this Toni Morrison quote: "As you enter positions of trust and power, dream a little before you think." They examined their authority in the classroom and on the page, and together, voiced dreams for their school, students, and selves. One teacher, noting how little space there can be for public school teachers to build community and reflect with peers, said: "I look forward to being here," and the group murmured assent.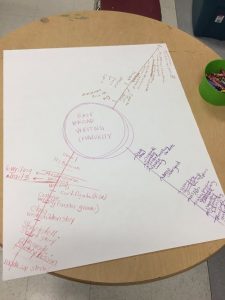 Another workshop focused on writing as a tool for mindfulness. Teachers described the need to "rise above" their intense daily challenges, so Megan responded with writing and reflection on how to be in the moment. Journaling without judgment allowed teachers to "take out the garbage," clear their minds, and create space to breathe.
The teachers also collaborated on designing a weekend-long mini-institute, facilitated by Dr. Jones of the University of Georgia. The day they planned enabled them to deepen their practice and connect through writing to who they are as teachers, human beings, community members, and nurturers of Savannah's young people. Over two days and nights teachers wrote, remixed their work into a variety of creative media and written genres, had hard conversations, and ate and laughed together. One morning in particular they visited the Jepson Center for the Arts to write, tour an exhibition of the colorful and engaging identity work of artist Nick Cave, and put their heads together about using their collective knowledge to empower themselves as teachers.
The weekend underscored an important point: just like the young people they work with, teachers need field trips, too. They need opportunities to exist and explore together outside the classroom walls. The teachers left invigorated and excited, with a plan of action for experimentation in their classrooms and community.
For instance, LaTonya Walton, Deep's volunteer "education fellow" (what we call our teacher liaisons at all our public school sites) at East Broad school, encouraged student Krystell Sanchez-Romero (Deep Laureate Winter 2017) to create a website just for youth writers at East Broad. This project was a direct result of her action plan created at the mini-institute. Deep aims to foster a culture of writing in every partner school, so having a teacher and student take the initiative to collaborate on a school-specific writing site, where students can upload creative writing in a safe space, is a big achievement.
When teachers feel connected, powerful, and respected, they create classrooms that are purposeful, respectful, and empowering. And the whole school thrives.