Our Staff
---
Dare Dukes – Executive Director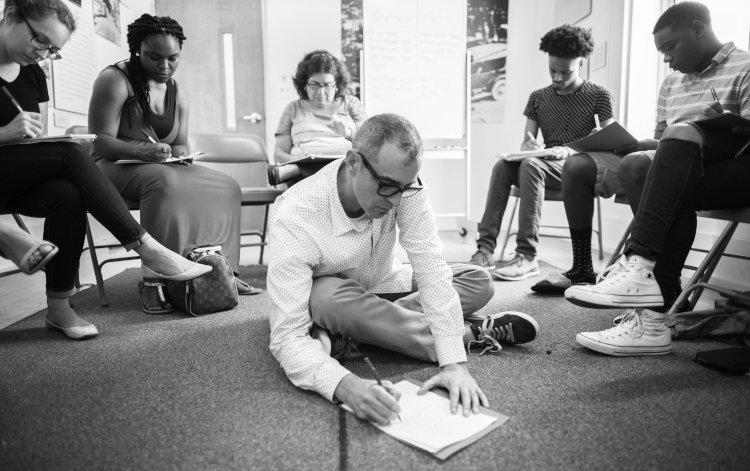 Dare is a musician, writer, and a nonprofit leader with more than 20 years of experience working in arts and social-justice nonprofit settings, both as an artist and leader. As a nonprofit professional, he worked for more than eleven years as development and communications director for Global Action Project (GAP), a New York City nonprofit that provides award-winning media-arts and leadership training for marginalized and low-income youth. There he directed fundraising and related organizational communications and strategy for one of the nation's leading youth media-arts nonprofits. Dare has also consulted extensively for nonprofits across the country, and prior to his tenure at GAP, he was the manager of foundation and corporate relations for the Brennan Center for Justice at the NYU School of Law, where he oversaw an institutional-giving portfolio for a leading public-interest law firm working to strengthen democratic institutions, protect the poor, and ensure fairness in the U.S. criminal justice system.
As a musician and composer, Dare has written, arranged, and produced two critically acclaimed indie rock and folk records and performed across the country. As a writer and performance artist, Dare wrote numerous plays and performances presented in traditional and nontraditional venues in Boston and New York City; articles for periodicals; and two novels (one unpublished, another a work-in-progress). He earned an MFA in Creative Writing from The New School, a second MFA in Theater from the University of Minnesota, and a BA in English Literature from the College of the Holy Cross.
Dare has attended the Summer Institute at the Red Clay Writing Project, the National Writing Project's site at the University of Georgia, Athens, and he is a National Writing Project Teaching Consultant.
Dare was a National Afterschool Matters Fellow for 2015-17, a co-project of the National Institute on Out-of-School Time at Wellesley College and the National Writing Project.
Dare is a member of the ArtsGeorgia advisory committee.
---
Megan Ave'Lallemant – Senior Programs Director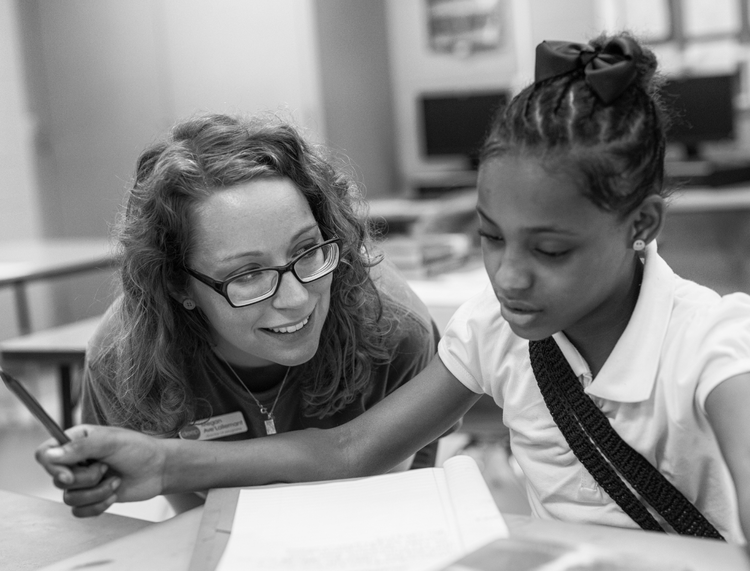 Megan Ave'Lallemant is a writer, designer, and Deep's senior program director. She hails from small-town Ohio but has lived in Savannah for over a decade, where she earned a BFA from Savannah College of Art and Design. At Deep, she develops culturally sensitive curriculum that responds to young people and the world around them, and she researches and implements trauma-informed practices to make Deep's work mindful and grounded. Megan is also Deep's resident facilitator for transformative community conferencing, which seeks to address the root causes of social issues and create radical change through intergenerational, cross-class, cross-race, etc. storytelling and sharing. She's excited about social-emotional practices in school systems, leading teachers to play, and helping young people connect to their joy and power through art and writing.
Megan has attended the Summer Institute at the Red Clay Writing Project, the National Writing Project's site at the University of Georgia, Athens, and she is a National Writing Project Teacher Consultant.
---
Keith Miller – Program Director, Block by Block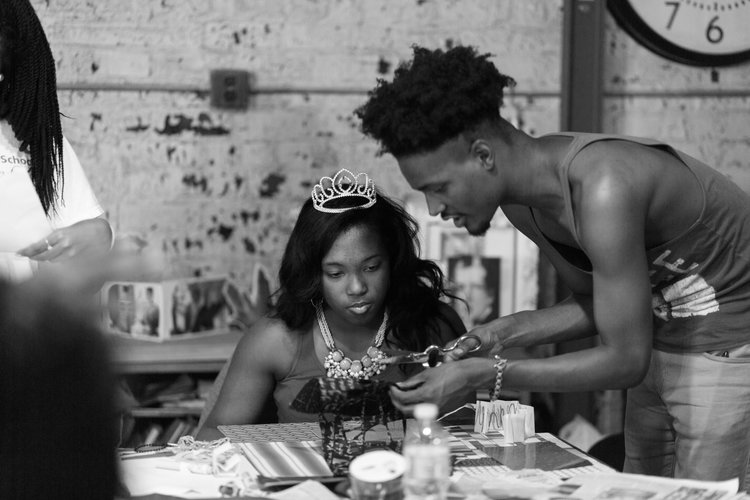 A Savannah native, Keith joined Deep as programs manager in 2015, and he is a storyteller, creative, and disruptor with several years of experience in education. Most notably, as coordinator of volunteers at iMentor, a youth mentoring organization based in New York City, he was in charge of the recruitment, screening, and training of 1,500+ mentors across 18 different New York City high schools, and he played a key role in launching corporate partnerships and leading borough-targeted recruitment. And as marketing manager at TNTP, an education nonprofit with the mission of ending the injustice of educational inequality, he crafted compelling marketing campaigns while serving as the lead project and design manager for several publications and external clients such as the New York City Department of Education.
When he's not toiling away in his office, Keith serves as the Managing Editor and Creative Director of The Pillow Talk Project, a website dedicated to helping men–and those who love them–rediscover the power of everyday intimate conversations through celebrating their stories about their own journeys into manhood. He also collaborates with photographers and fellow artists across the country, crafting marketing campaigns like #WeSmileToo, to celebrate diversity and bring the power of creative storytelling, healing, and empowerment to the masses.
Keith has attended the Summer Institute at the Red Clay Writing Project, the National Writing Project's site at the University of Georgia, Athens, and he is a National Writing Project Teaching Consultant.
---
Maria Zoccola – Program Coordinator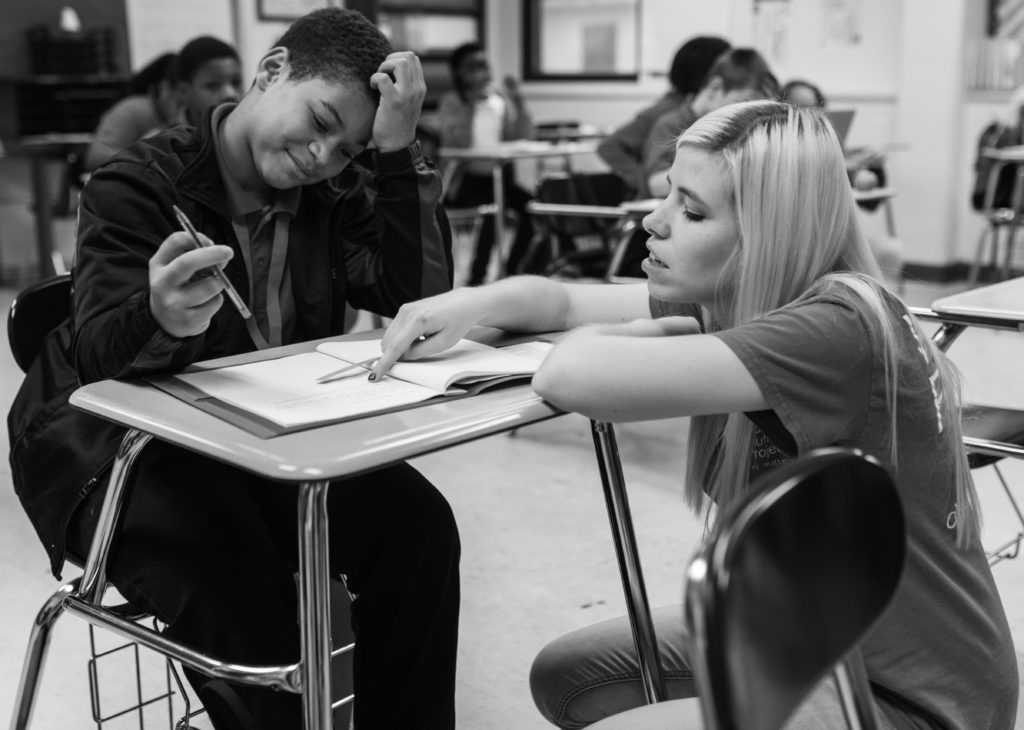 Maria was born and raised in Memphis, Tennessee, and has been writing since she could hold a pencil. She graduated with a BA in Creative Writing and English from Emory University in Atlanta and an MA in Professional Writing from Falmouth University in Cornwall, England. She has freelanced for nonprofits both big and small, and is excited to be a part of Deep here in Savannah.
Maria enjoys writing young adult fiction and fantasy. When not working with young people at Deep, she is active in vegan outreach and animal activism.
Maria has attended the Summer Institute at the Red Clay Writing Project, the National Writing Project's site at the University of Georgia, Athens, and she is a National Writing Project Teaching Consultant.
---
Louise Tremblay – Deputy Director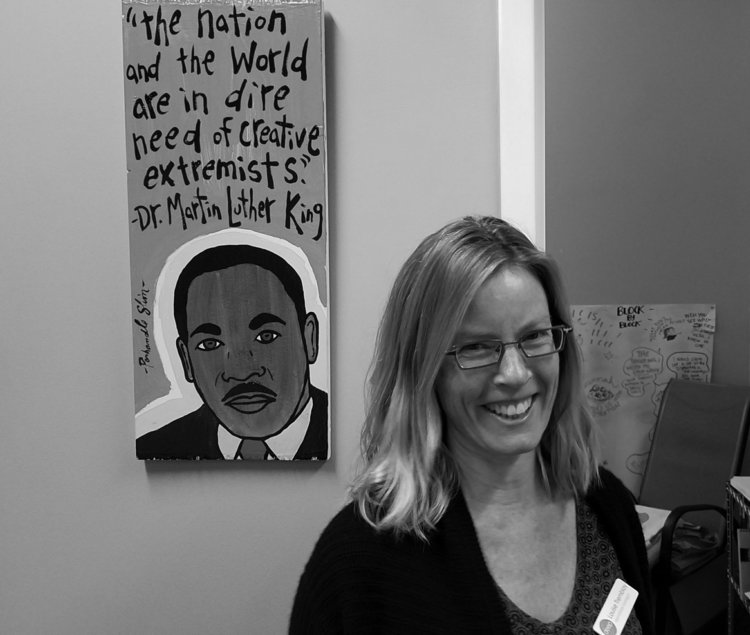 Louise joined Deep in 2016 as operations manager, bringing two decades of experience in non-profit management and fundraising with a focus on youth empowerment, social change, and community enrichment through arts and education. Louise spent five years directing youth programming for The ArtsCenter in Carrboro, North Carolina, where arts enrichment was provided to 30,000 local students annually. Earlier in her career, she coordinated community education for a domestic violence support and prevention organization in coastal Maine. For five years, she provided best practices education for teachers, doctors, and law enforcement, as well as violence prevention programs for middle and high school students. And a youth educator program she founded empowered teen volunteers to develop and deliver dating violence prevention programs for their peers.
Her fundraising experience includes coordinating the inaugural year of Maine's Mitchell Scholarship Fund and serving as Assistant Director of the Annual Fund at Maryland Institute College of Art, in Baltimore.
Louise has a BA in Human Ecology from College of the Atlantic, where all graduates design their own course of study. Her senior thesis, Reflections on a Life: Oral Histories of Maine Women, featured the stories of creative women in their eighties, and wove together her study of psychology, anthropology, gender, and art. She has long believed that stories matter and that developing personal narratives can be transformational. When she's not managing the daily operations in the Deep office she is probably hiking, biking, reading, writing, and learning from her son, a second grader who asks a thousand questions per day.
---
Raphael Eissa – Community Engagement Coordinator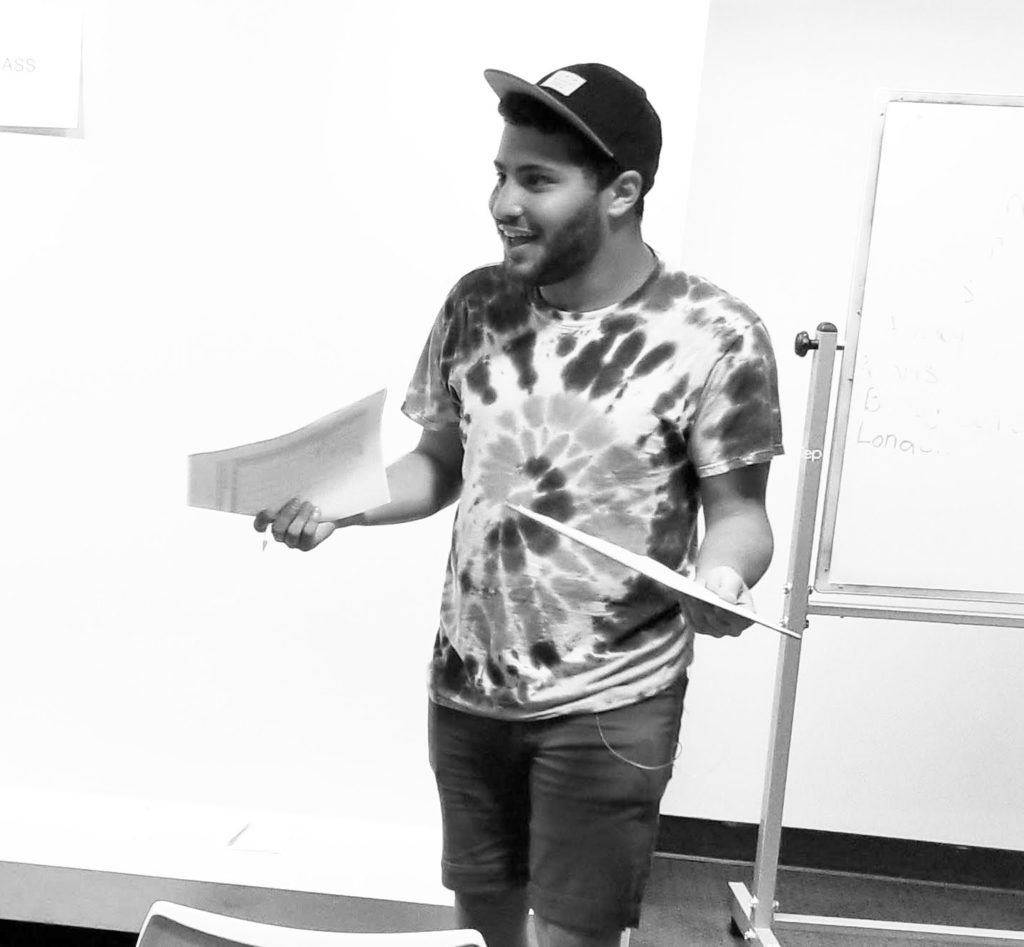 Born in New York but raised in Savannah, Raphael is an Egyptian-American activist and writer who graduated from the University of Georgia with degrees in Political Science and International Affairs. Much of his academic career was spent advocating for oppressed peoples and marginalized communities, both around the world and in the United States. As a member of the largest Christian minority in the Middle East, Raphael has conducted research on state violations of physical integrity rights for the Sub-National Analysis of Repression Project and worked with Eshhad: Center for the Protection of Minorities to aggregate and collate sectarian incidents throughout Egypt, Syria, and Iraq. He dedicated his time at the University of Georgia to Palestine solidarity work and community organizing, and he co-founded the Progressive Action Coalition, which organized marches, protests, and rallies to advocate for marginalized youth, local workers, and recognition of the Armenian Genocide.
In addition to his work supporting Deep's Youth Leadership Team, participatory action research across programs, and organizational communications and outreach, Raphael serves as a media and programming subcommittee member for National Students for Justice in Palestine to organize annual conferences and quarterly newsletters. A former Young Georgia Authors Contest finalist, he strives to uplift the creations of individuals and groups who have experienced trauma, crafting social media campaigns and storytelling initiatives via workshops, panel discussions, and creative branding.
He is best friends with his cat, Olive, and enjoys hookah, Disney music, and love-centered conversations about politics in pursuit of an equitable world and an equitable Savannah.
As a high school student, Raphael found his voice as a participant in Deep programming at Johnson and Islands High Schools from 2010-2012.
---
Phillip Davis – Teaching Artist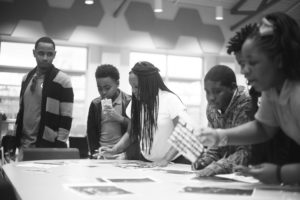 Born and raised in Savannah, Phillip comes from a small family and humble beginnings. He recently published his first book of poems, "To The Soul, Sincerely Love." As a committed community activist and leader, he is a founder of "The Indigos," a non-profit that is a collective of entrepreneurial artists, community leaders, and arts educators working with Savannah youth. The Indigos partner with other local nonprofits such as Loop It Up, Seal Savannah & Lady, Inc., YMCA, 21st Century, and many public schools. He is also the host of a local poetry and open mic event called "Creatively Crafted." "Live you, love you, be you" is his mantra.
---
Trelani Michelle – Teaching Artist
Trelani self-published her debut novel while a senior at Savannah State University. After graduating, she returned to her alma mater to facilitate grammar and creative writing workshops for faculty, staff, and students. Digging the opportunities that writing provided, she joined Deep in 2014 as a w
---
Marquice Williams – Teaching Artist
Marquice Williams is known around the Savannah community for his inspirational spoken word poetry and energetic hip hop performances. When he is off the stage, you can find him teaching performance poetry workshops and mentoring at Park Place Outreach Youth Emergency Shelter along with various Chatham County schools.
As a native of Savannah, Mr. Marquice gives back in more ways than one. His roots in the local arts community dates back to when he was 6 years old. After the passing of his mentor, Clinton D. Powell, this young poet began his journey as a Co-director of The Spitfire Poetry Group.
While overseeing one of Savannah's premier spoken word troupes, he successfully created a once-a-month open mic showcase and continued an annual, week-long festival in honor of National Poetry Month in April. He believes that everything true will survive. Nothing is truer than words from a poet's heart. In 2016, Marquice officially joined Deep as an East Side Teaching Artist for Block by Block.
---
Desina Van – Teaching Artist
Desina Van has been with Deep as a Writing Fellow since she moved to Savannah in 2012. And in 2016, she officially joined as a West Side Teaching Artist for Block by Block.
While living in Toronto, Desina worked as a print and online writer and editor, as well as an academic editor of graduate theses. She has written on topics from music and art to community programs and business and neighbourhood profiles. She has interviewed community leaders, students, truck drivers, lawyers, artists, musicians, and local personalities. She received several government grants for her fiction writing.
Her undergraduate studies covered biological and environmental sciences, history, studio arts, and world literatures. She has also taken additional programs in mediation, advocacy for women and children, a practical course introducing women to trades and technology, and a post-graduate law program (her other love, alongside writing and teaching).
Desina is working on a novel she hopes to finish by the end of 2017, between her three jobs, dreams of further bike touring, and time with two animals (one of which is a cat, who inspired a neighbor to name his wifi network after him).
---
Erin DeYoung – Teaching Artist
Erin DeYoung joined Deep in 2016 as a writing fellow for the Young Author Project and became a teaching artist for Block by Block in 2017. She's so new to Savannah that she's still getting used to the famous southern summers (and the accompanying heat and humidity). Originally from Wisconsin, she earned a Bachelor's in creative writing and a Master's in English Literature from the Marquette University before fleeing the frozen tundra for Ireland, where she earned her PhD from Trinity College.
At Trinity College, Erin studied Shakespeare, specifically Elizabethan history plays and how these depictions of history helped shape colonialist discourse. Through her work as a Shakespearean scholar, Erin has also had the opportunity to work with the Milwaukee Shakespeare Theater Company.
Now back in the States, she lives the nomadic life of a military spouse, having been stationed previously in Los Angeles and Dover, Delaware. In addition to working at Deep, she teaches English at Savannah State University, where she teaches writing courses that focus on media literacy and critical engagement with the news and video games as literature.
Over the course of her travels, she's picked up a few hobbies including SCUBA diving, her pilot's license, and, most recently, a 1972 Honda CB350 motorcycle named Rose.
As a creative writer, Erin works on speculative fiction. She is currently working on a noir-inspired mystery novel about social media and the selfie generation.
---
Board of Directors – 2018
---
Our Co-Founders
Catherine Killingsworth
Catherine Killingworth co-founded and was the first executive director of Deep Center. She earned a BA in English at Yale University, where she won the Curtis Prize, the Wright Prize for Nonfiction Writing, and the Seymour Lustman Price for Arts and Culture. She studied creative writing at Cambridge University as a Thouron scholar.
In 2008, Catherine founded Deep, alongside Hartford Gongaware (founding board chair), Emma Lunbeck, Alex Borinsky, and Chelsea Dye. In 2010, she authored The Cure for IDK, a book of writing lesson plans inspired by Deep's first year of writing workshops. As Deep's executive director for five years, Catherine became known affectionately around Savannah middle schools as "that writing lady." In 2013, Catherine stepped down as executive director in order to serve as an education professional.
---
Hartford Gongaware
A native of Savannah, Georgia, Hartford Gongaware in 2008 teamed up with a Catherine Killingsworth and a group of local authors to co-found Deep Center, for which he was the board chair until 2015.
Hartford graduated from Princeton University and earned an MFA in Creative Writing from the University of California, Irvine. Mr. Gongaware was one of the founders of Silverpoint.Net, a web design company.
As a partner in the creative services firm Beautiful Hype, he now tells brand and product stories for companies nationwide. Mr. Gongaware's work has been published in the Ontario Review and the Savannah Morning News, and online at Gutfire!